Patriotic Hair Chalk For Memorial Day
With Memorial Day right around the corner and the Fourth of July not too far off, here's a patriotic inspired Hair Chalk Style for you.
I used the materials listed here, as well as the Bundle Monster Non-Toxic Temporary Hair Pastel Chalk Beauty Kit – Mix Color Variety Beauty Design, 24pc.  The colors I chose were the darkest blue, the brightest red, and white.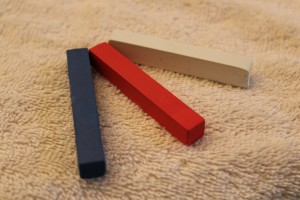 I hadn't tried white before and was interested whether or not you'd actually be able to tell that it's white or not.  If you have blonde hair I really don't think it'd make a noticeable difference, but with slightly darker hair (even a lighter medium like mine) you could definitely tell that it was a lighter shade.
Once my hair was air dried, you then definitely tell that it was a lighter/white color: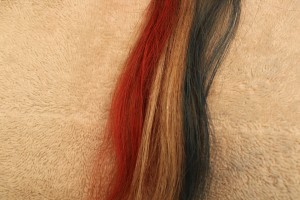 I tested it on 3 small sections next to one another, keep in mind when doing that you're not going to get as big of an impact as you would with larger sections of hair.  With smaller sections of hair colored, once your hair is dry your hair is bound to start crossing, so your colors won't be as defined if they're in smaller sections
I think this is a cute look if you're going for just a little something, not too obvious.  You can color just the ends of your hair that would show in a ponytail or bun so once your hair is put up you'll see those colorful pieces on your top bun/ponytail, for a patriotic, but still professional look.
We'd love to see photos of what you did with your hair, please send your photos over to info@hairhalkhowto.com and they may even show up in our gallery.
Happy Hair Chalking!