Hair Chalk Color Sticks For Brighter Easier Color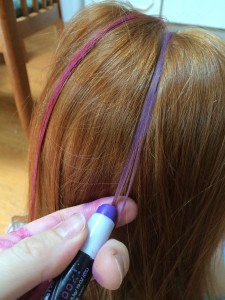 I love hair chalk! It gives an extra boost to a drab hair day, it's temporary so you can experiment with different colors as often as you want and it just looks pretty cool.
Hair Chalk has come a long way, there are so many types to try and the one I'm going to talk about today called Edge Blendable Hair Color Metallic Color Stix which is pretty much Hair Chalk with a Built in Sealant. This makes it easy to apply and gives it great holding power!
They come in 6 sparkle/shimmer colors including silver, gold, purple, blue, pink and green. I was looking around at some of the newer types of hair chalk and I LOVE these even more then the standard pastel type hair chalks. Looking at people who poorly rated them some people commented that they are not that big. Like most hair chalk you do not get a ton of material – but if used correctly you can get a bunch of uses out of them. For the cost and colors I think you get plenty of uses out of this product, and they are pretty easy to use.
Click here to view/purchase Edge Metallic Stix from Amazon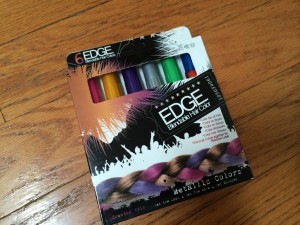 Standard Hair Chalk vs. Hair Chalk With A Sealant

APPLICATION
Standard Hair Chalk: Require you to wet your hair, apply and let it dry (flatiron for extra stay).
Hair Chalk With A Sealant: Simply rub on and you're done!
CLEAN UP
Standard Hair Chalk: It is recommended to wear gloves and cover your clothing as they will rub off.
Hair Chalk With A Sealant: You can wear gloves for easier clean up, but they do not stain your hands, or clothing!
**Note** Although I did get the chalk on my hands in the photo above, it washed off easily with soap and water. I'd advise washing your hands right away when you're done, or to be extra cautious you can still wear gloves.
BRIGHTNESS
Standard Hair Chalk: You will have to rub on a few times to obtain a bright color
Hair Chalk With A Sealant: Take a lot less work to get the true color
Now the ones I'm reviewing here have glitter in them, it might not be everyone's cup of tea but I love how it emphasizes an already cool hair trend.
When you apply the crayon chalk it glides on over the hair, the pastel chalks you need to wet your hair to soak it in.
Whether its your first time trying hair chalk, or you're just looking for a new product, this latest one I tried is amazing! It's labeled "color stix" but I consider it hair chalk!
The photos below are of my little model (aka my daughter) who loves anything pink and purple. Her hair is red like mine, but you can see how even with a simple swipe of the chalk how easy it is to apply and how bright it is. Even though she loves to get hair chalk put in, any kid does not like to sit for along. These are a lifesaver as they can be quickly applied and have staying power.I still would not recommend brushing your hair…at least not too much. With the crayon chalks if you brush it too much it will just end up blending into the rest of your hair.
Click here to view/purchase Edge Metallic Stix from Amazon
Happy Hair Chalking!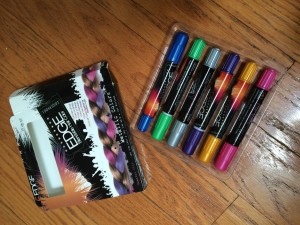 Out of the packaging so you can see what it looks like.
Finished Hair Chalk Application, Quick and Easy! See next photo for what it looks like after brushing.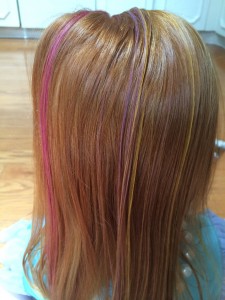 This is after LIGHTLY brushing through with a hairbrush. Not as dramatic as the prior photo but still looks great!